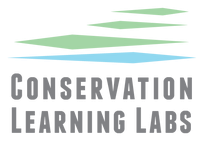 Iowa Learning Farms is leading the Conservation Learning Labs project that will study how implementation of conservation practices can reduce nitrogen and phosphorus loss at the watershed scale in Iowa. The project is funded by the Iowa Department of Agriculture and Land Stewardship (IDALS) and the United States Department of Agriculture – Natural Resources Conservation Services (USDA-NRCS) of Iowa.
The project is specifically focused on small watersheds — between 500 and 1,300 total acres in size—and the adoption of practices like cover crops that reduce the movement of nitrogen and phosphorus on a large percentage of the watershed's agricultural land. The two pilot watersheds were chosen because of their size and because the watersheds already have a Conservation Reserve Enhancement Program (CREP) wetland on-site that will provide baseline water quality monitoring data on nitrogen and phosphorus loads over several years. We will be able to see how nutrient loads might be affected in real time based on the implementation of cover crops on the land.
---
Goldilocks and the Three Scales of Nutrient Load Research
The Iowa Nutrient Reduction Strategy (NRS) lays out in-field and edge-of-field conservation practices that can improve Iowa's water quality and reduce N and P export. Much of the research highlighted in the NRS is from small, plot-scale research projects. While these controlled studies are essential to our understanding of nutrient loads, results at the plot scale can differ from actual nutrient loads that we see at a larger scale (HUC-12 and larger watersheds). In-stream processes such as bed and bank erosion can add variability and complicate the overall picture in larger watersheds of how we assess agricultural source loads.
It's the Goldilocks principle: plot scale research is too small, and HUC-12 watersheds are too large. The sweet spot is somewhere in between. This is why the Conservation Learning Labs project will target the scale at which nutrient loads are actually delivered: small watersheds containing less than 2,000 acres.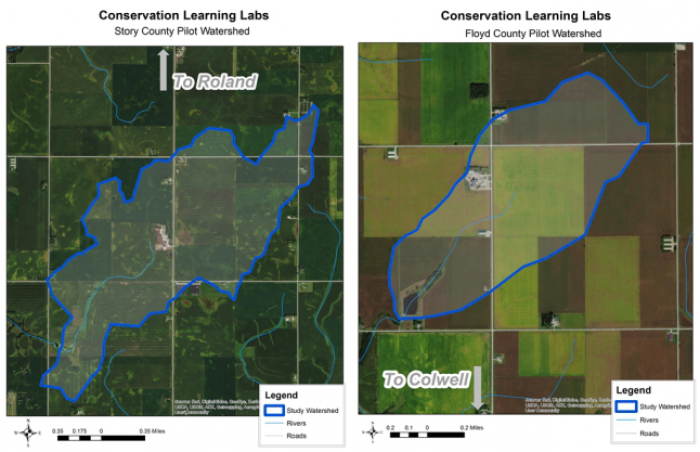 Just like the NRS, the Conservation Learning Labs project will rely on high adoption of cover crops in the agricultural acres of the pilot watersheds. ILF has reached out to landowners and farm operators in each of these pilot watersheds to talk to them about the project and to ask for their participation. Cost share dollars are available if they agree to seed a cover crop in fall of 2017.
To date, both pilot watersheds have at least 50% of the agricultural acres in the watershed committed to seed a cover crop in fall of 2017, as well as first time strip-tillage acres and enrollment in CRP. Be sure to keep up with our blog for updates.