Conservation Station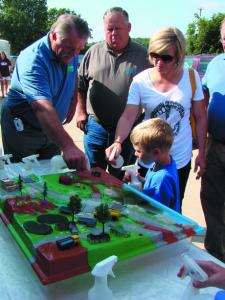 Iowa Learning Farms partners with Water Rocks! to bring audiences the Conservation Stations —two mobile learning centers that educate audiences of all ages on different conservation aspect through hands-on activities.
The Conservation Stations travel the state visiting county fairs, farmers markets and other community events. It is staffed by the Iowa Learning Farms/Water Rocks! team and is available for single-day events. The two Conservation Stations house a rainfall simulator demonstrating the effects of rainfall on undisturbed soils with a variety of soil covers and impervious and porous surfaces.
The Conservation Station may be able to be part of your event at no charge.
To request a Conservation Station visit, complete the Online Form.
For more information about the fleet. View the Conservation Station schedule.
The Conservation Station team reserves the right to select which trailer will be at your event.
How Does Your Water Shed?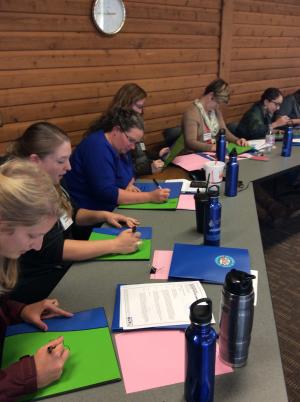 Water Rocks!, based at Iowa State University, offers an interactive outreach program for adult and community groups through "How Does Your Water Shed?"
This FREE, hour-long program includes a combination of a video/multimedia presentation, discussion, and hands-on activities aimed to generate dialog and awareness of local watersheds and water quality concerns.
We are flexible with scheduling programs in the spring, summer and fall. If you have regular planned meetings or continuing education credit courses, we would be
happy to present at one of your meeting times.
If you are interested in bringing this informative program to your group this year, please contact Liz Juchems to coordinate a date.
email: ejuchems@iastate.edu or call: 515-294-5429